Blog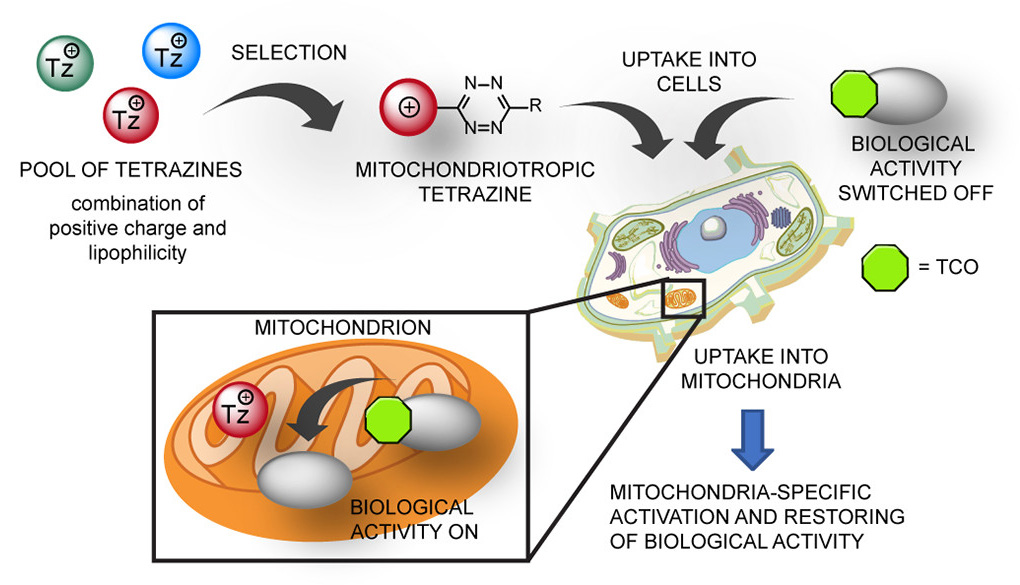 Many drug targets are located in particular cellular compartments known as organelles. Traditional medicinal chemistry approaches focus on bioavailability and tissue targeting, but rarely address drug delivery to specific cellular organelles. Our team has demonstrated that the delivery and release of biologically active molecules from inactive precursors can be achieved in an organelle-specific manner.
Read more in the IOCB web article.
R. Dzijak, J. Galeta, A. Vázquez, J. Kozák, M. Matoušová, H. Fulka, M. Dračínský, M. Vrábel, Structurally Redesigned Bioorthogonal Reagents for Mitochondria-Specific Prodrug Activation, JACS Au 2020, https://pubs.acs.org/doi/full/10.1021/jacsau.0c00053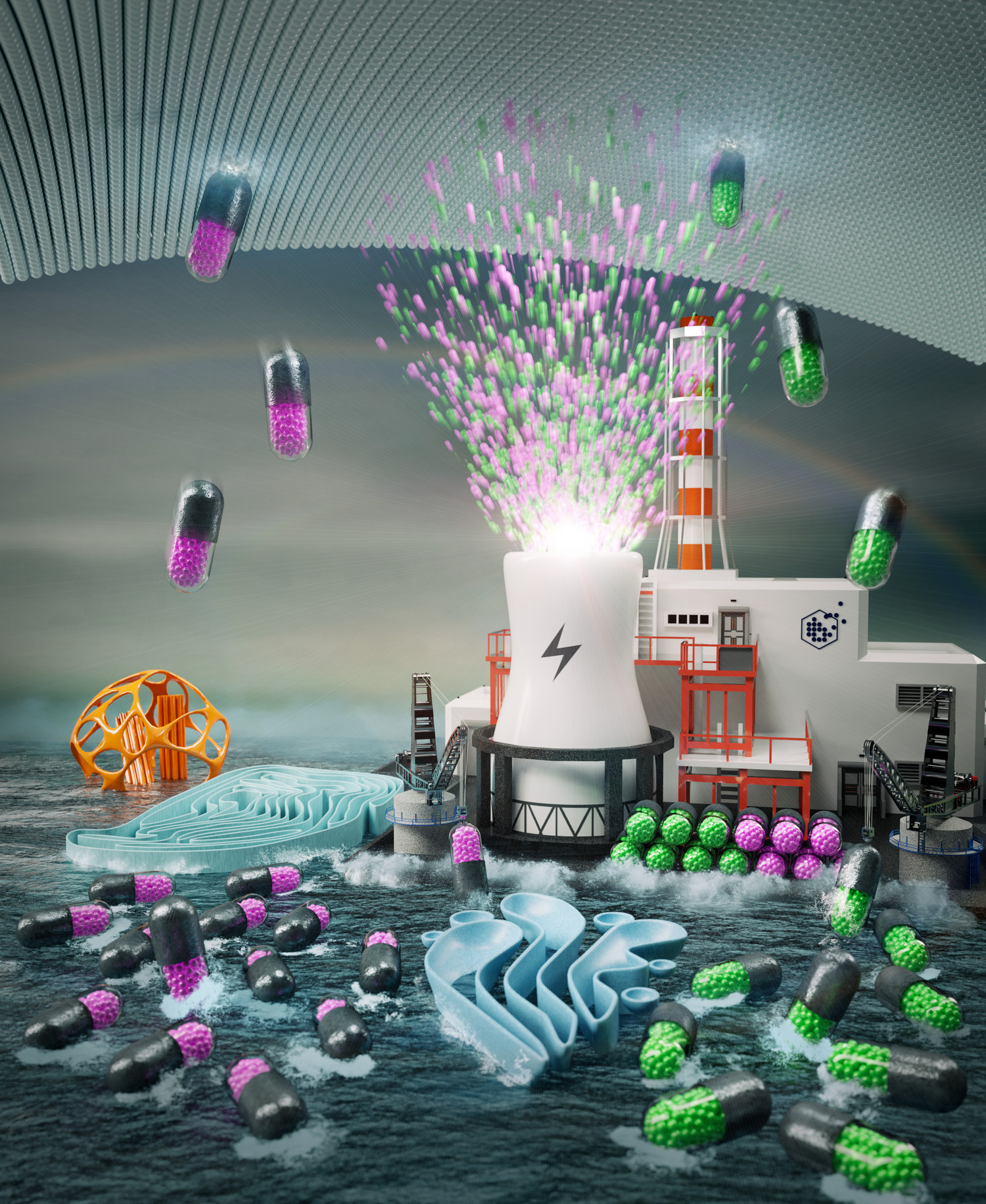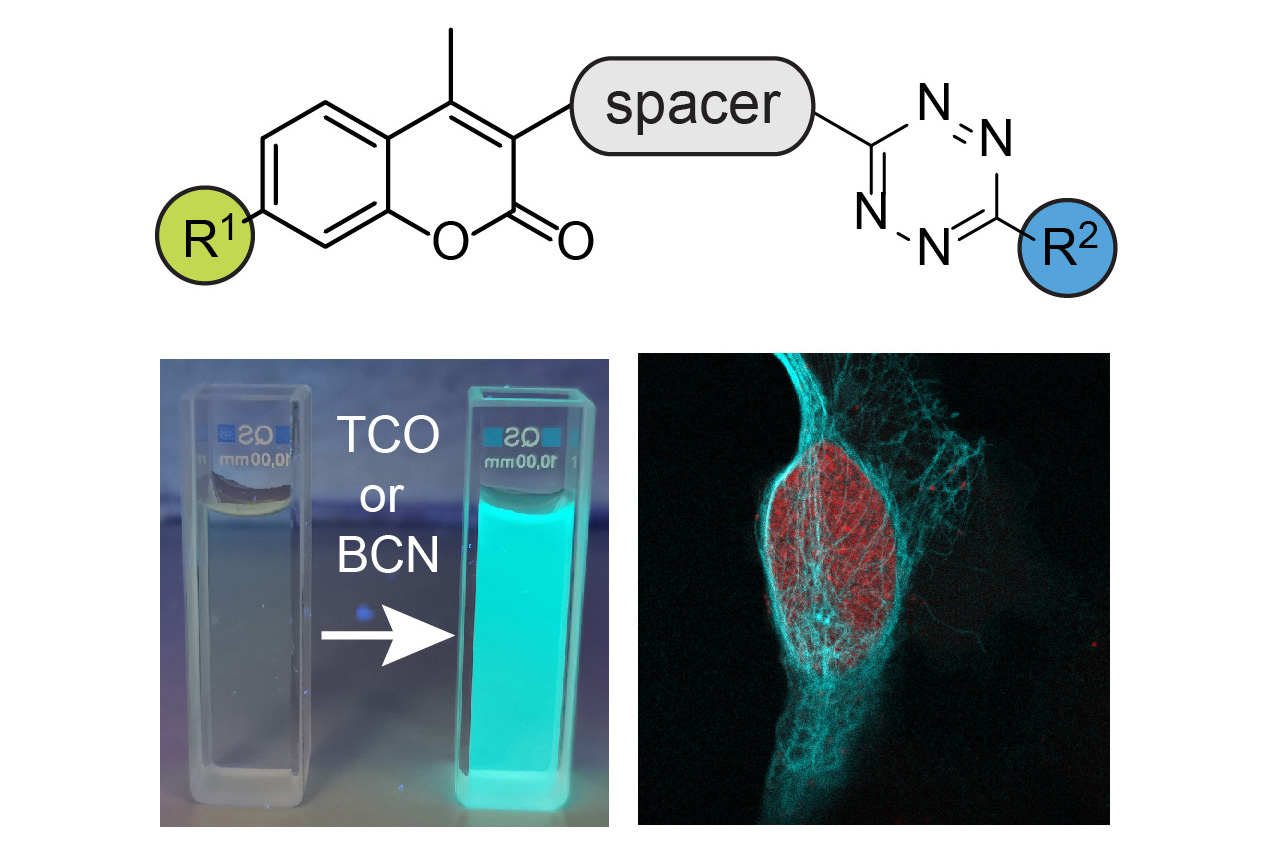 Our work was highlighted on ChemistryViews. Congratulations to all the authors!

In this article published within the special collection on "Chemistry in the Czech Republic" we compare the pros and cons of transition-metal mediated and tetrazine-triggered bioorthogonal release reactions.
F. Mancuso, M. Rahm, R. Dzijak, H. Mertlíková-Kaiserová, M. Vrabel, Transition‐Metal‐Mediated versus Tetrazine‐Triggered Bioorthogonal Release Reactions: Direct Comparison and Combinations Thereof, ChemPlusChem 2020, 85, 1669. https://doi.org/10.1002/cplu.202000477
Thanks to Francesca for a great job during her internship in the lab!
In our work published as a hot paper within "The Young Chemists 2020 Special Collection" of Chemistry, we describe the influence of various substituents on the photophysical properties of dyes formed in reaction of coumarin-tetrazines with two different dienophiles. These highly fluorogenic reactions can be used for various bioimaging applications in live cells.
J. Galeta, R. Dzijak, J. Obořil, M. Dračínský, M. Vrabel, A Systematic Study of Coumarin–Tetrazine Light‐Up Probes for Bioorthogonal Fluorescence Imaging, Chem. Eur. J. 2020, 26, 9945, https://doi.org/10.1002/chem.202001290
Check out our videos showing how the reaction works in the cells in real time!
Thanks also to Paul Reyes for creating the colorful Cover Feature. COVID is not going to stop us!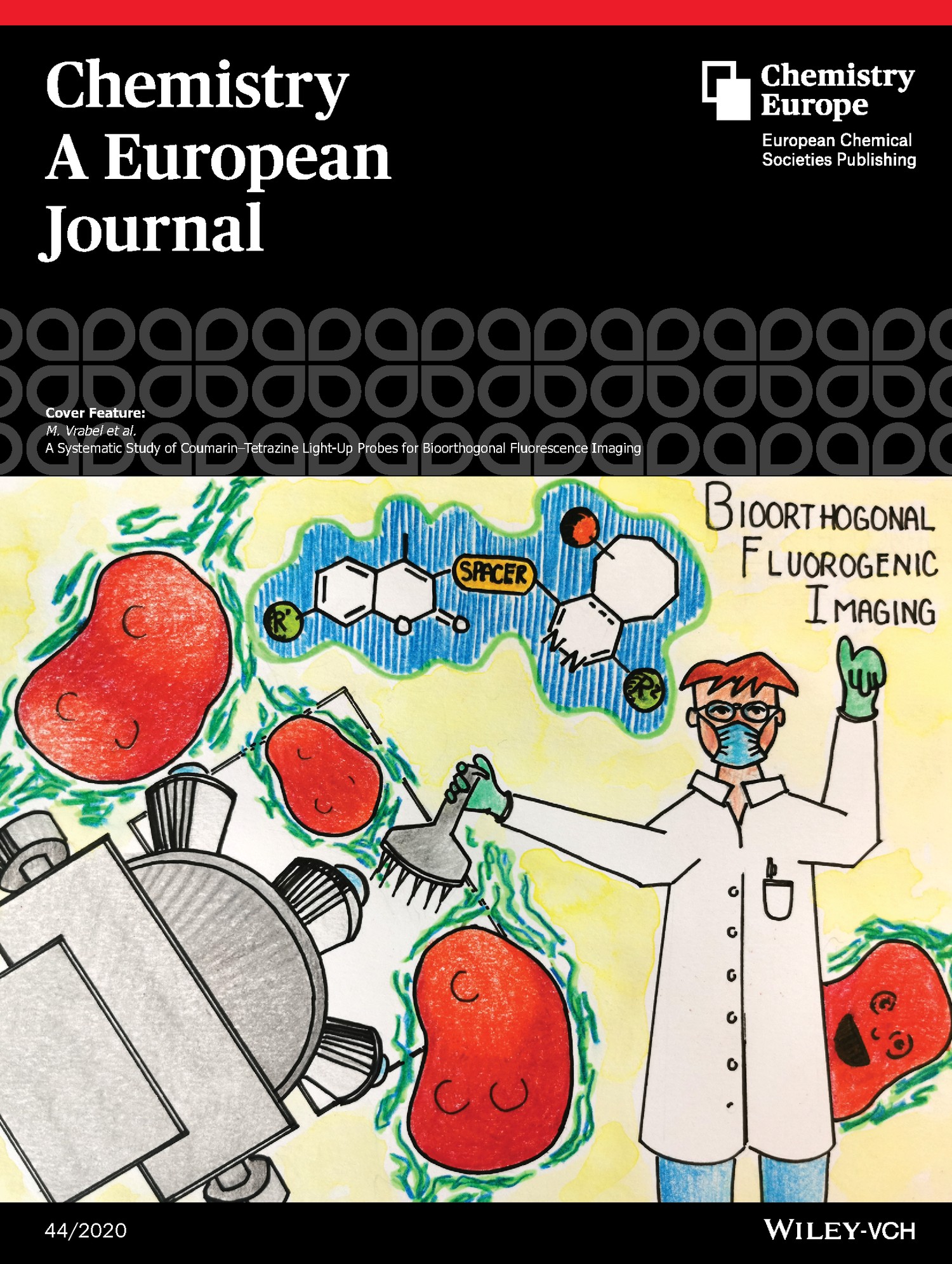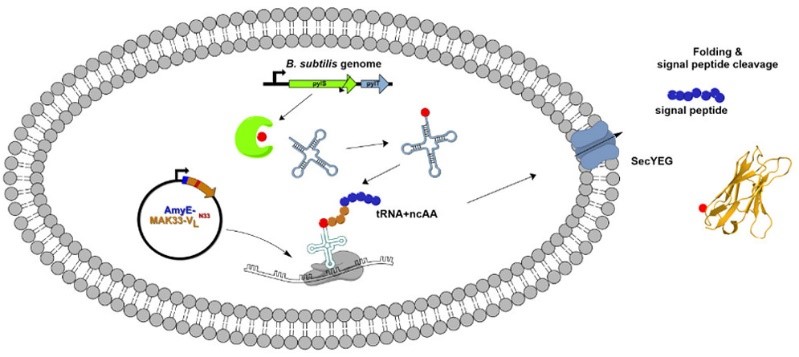 In collaboration with the group of Sabine Schneider at LMU Munich, we present in this paper an optimized expression system for production of norbornene-containing single chain antibody. The antibody containing the unnatural amino acid is fully functional and can be used for the attachment of other useful functional groups by click chemistry.
C. M. Scheidler, M. Vrabel, and S. Schneider, Genetic Code Expansion, Protein Expression, and Protein Functionalization in Bacillus subtilis, ACS Synthetic Biology 2020 9 (3), 486-493, https://doi.org/10.1021/acssynbio.9b00458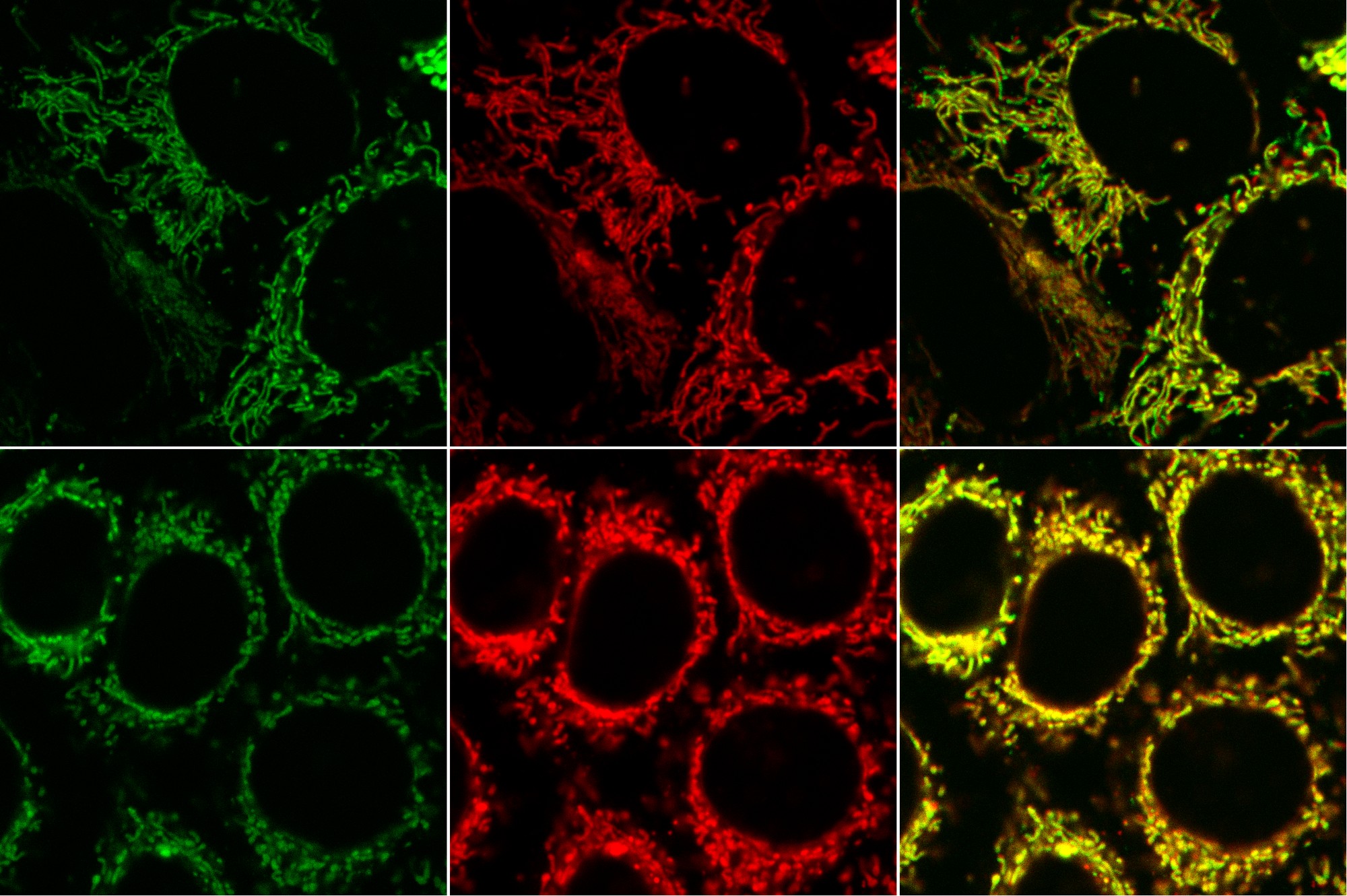 We show in our new work published in the special "Early Career Series" issue of ChemPlusChem that bicyclononynes (BCN) in reaction with tetrazines containing electron-donating substituents form fluorescent dyes. This fluorogenic reaction enables bioimaging with excellent signal to noise ratio.
S. J. Siegl, J. Galeta, R. Dzijak, M. Dračínský, M. Vrabel, Bioorthogonal Fluorescence Turn‐On Labeling Based on Bicyclononyne−Tetrazine Cycloaddition Reactions that Form Pyridazine Products, ChemPlusChem 2019, 84, 493, https://doi.org/10.1002/cplu.201900176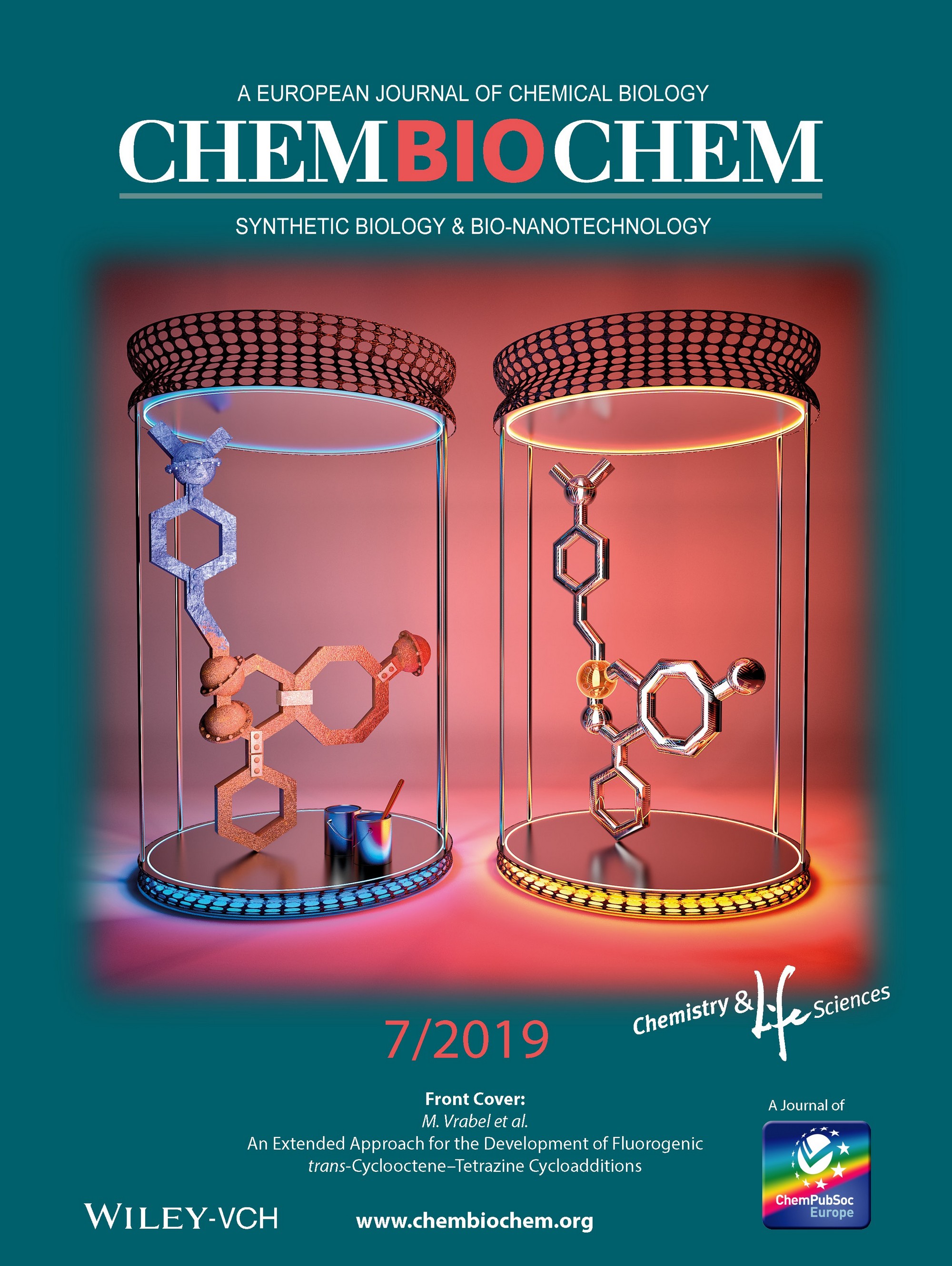 Our new work published as VIP paper and highlighted on the front cover of the special young researchers "ChemBioTalents" issue of ChemBioChem. The article describes that our original concept of fluorogenic reactions (ACIE 2017, 56 (5), 1334-1337) can be extended to other trans-cyclooctene and tetrazine derivatives.
Congratulation to all the authors!
S. J. Siegl, J. Galeta, R. Dzijak, A. Vázquez, M. Del Río-Villanueva, M. Dračínský, M. Vrabel, An Extended Approach for the Development of Fluorogenic trans‐Cyclooctene–Tetrazine Cycloadditions, ChemBioChem 2019, 20, 886, https://doi.org/10.1002/cbic.201800711
Thanks to Tomáš Belloň for the great cover!

Our work describing the development of advanced aziridine-fused transcyclooctene (aza-TCO) dienophiles. The reagents belong to the most reactive bioorthogonal probes known to date and lead to the formation of fluorescent products in reaction with various tetrazines without the need for attachment of an extra fluorophore moiety.
S. J. Siegl, A. Vázquez, R. Dzijak, M. Dračínský, J. Galeta, R. Rampmaier, B. Klepetářová, M. Vrabel, Design and Synthesis of Aza‐Bicyclononene Dienophiles for Rapid Fluorogenic Ligations, Chem. Eur. J. 2018, 24, 2426, https://doi.org/10.1002/chem.201705188

We have discovered that 1,2,4-triazines bearing pyridinium substituents have interesting properties making these bioorthogonal reagents superior in many aspects.
S. J. Siegl, R. Dzijak, A. Vázquez, R. Pohl, M. Vrabel, The discovery of pyridinium 1,2,4-triazines with enhanced performance in bioconjugation reactions, Chemical Science 2017, 8, 3593-3598, https://doi.org/10.1039/C6SC05442K